Australian High Commission
Malaysia
No 6 Jalan Yap Kwan Seng, 50450 Kuala Lumpur Telephone: (03) 2146 5555 Fax: (03) 2141 5773 [Visa Line – (03) 2166 6550]
The Australia-Malaysia Cultural Exchange Program – Creating lasting ties between Australia and Malaysia
The Australia-Malaysia Cultural Exchange Program is an Australian Government initiative supported by the Malaysian Government that enables young Muslim Australians and Malaysians to develop a stronger understanding of our respective countries, cultures, and faiths. The Cultural Exchange Program is funded by the Australia-Malaysia Institute (AMI), which is housed in Australia's Department of Foreign Affairs and Trade (DFAT). The latest phase of the program occurred last week.
Six emerging Malaysian Muslim leaders (accompanied by Ridwaan Jadwat, Counsellor and Head of the Political and Economic Section at the Australian High Commission in Kuala Lumpur, and Sonja Weinberg, Executive Officer, AMI Secretariat, DFAT) visited Melbourne, Canberra and Sydney from 8 to 14 December. The Malaysian delegation included representatives of the Ministry of Foreign Affairs, the UMNO ruling party and the Opposition, and representatives of NGOs.
The visit program provided the Malaysian delegates with an opportunity to meet and exchange ideas and views with a diverse selection of Australians; including the Hon. Julie Bishop MP (Australia's Minister for Foreign Affairs), the Hon. Her Excellency Professor Marie Bashir (the Governor of NSW), the Hon. Ed Husic MP, the Hon. Victor Dominello MP (NSW Minister for Citizenship and Communities, and Minister for Aboriginal Affairs), Mr Chin Tan (Chair of the Victorian Multicultural Commission), and representatives of the Australian media, ethnic and religious communities, academic institutions and non-government organisations.
Australian High Commissioner to Malaysia, H.E. Mr Miles Kupa, commented that: "The Australia-Malaysia Cultural Exchange Program has created lasting people-to-people links between young Muslim Malaysian leaders and members of the Australian community. I am heartened to see the formation of such strong connections, deepening the already strong relationship between Australia and Malaysia."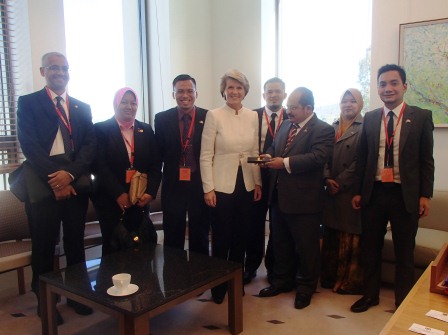 The Malaysian delegation met Minister for Foreign Affairs, Julie Bishop, in her parliamentary office on 11 December.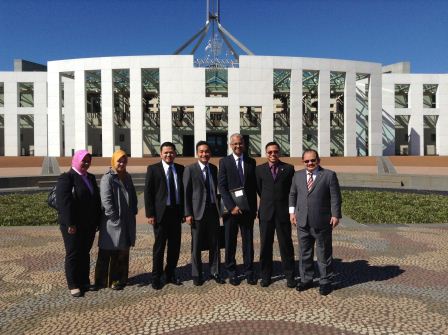 The delegation were given a guided tour of Parliament House and observed Question Time.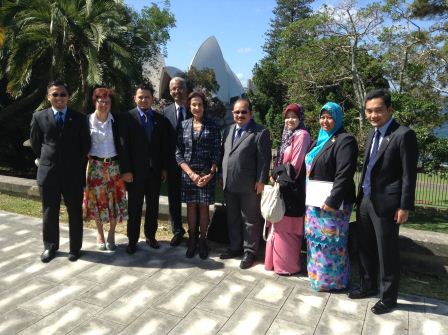 The delegation met the Governor of NSW, Professor Marie Bashir, and were given a personal tour of Government House on 12 December.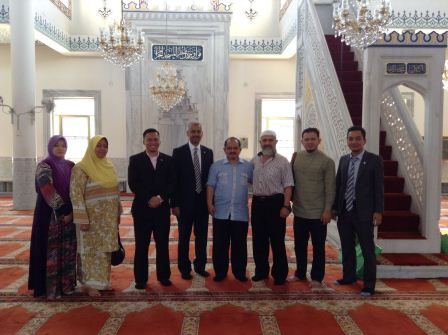 The delegation performed Jummah prayers at Gallipoli Mosque in the Sydney suburb of Auburn on 13 December.