| | | |
| --- | --- | --- |
| | | |
| | | |
| | | |
For urgent support, please contact our consular team on [email protected] or +60 3 2146 5555 or call the 24-hour consular emergency helpline in Australia on +61 2 6261 3305.
If you are an Australian citizen or permanent resident travelling or living in Malaysia you may wish to register with the Australian Government at https://covid19.dfat.gov.au. Regular email updates are provided on flights to Australia.
If you registered before 1 September 2020, you do not need to complete an online registration, your details are already registered with us.

2022 Federal Election
The next federal election will be held on 21 May 2022. If you are still in Australia, you can pre-poll vote from 9 May 2022.
The Australian High Commission in Kuala Lumpur will not be offering in-person voting services. The AEC recommends overseas voters cast a postal vote in this election. If you plan to be overseas at the time of the election, make sure you check your enrolment and request a postal vote as soon as possible on the AEC website.
Australians in Malaysia are encouraged to vote via postal vote, which can either be posted to the AEC directly, or mailed or dropped off to the High Commission in Kuala Lumpur. To send in your postal vote, please send to: Australian High Commission, 6 Jalan Yap Kwan Seng, 50450 Kuala Lumpur. To drop off your postal vote, please drop it off during 9am to 4pm (Monday to Friday) no later than 20 May 2022.
Postal votes must be returned as quickly as possible to ensure they are received by the AEC in time to be counted.

FAQs
What is the time frame for registering to vote?
Enrolment closes at 8pm on 18 April 2022, one week after the election is called.
How early before the election will postal votes be sent out?
The Australian Electoral Commission will start sending postal votes immediately after the declaration of nominations. Postal votes are expected to be sent from 26 April 2022.
When do requests for postal votes close?
Requests for postal votes will close on 18 May 2022. The Australian Electoral Commission recommends you apply for a postal vote as soon as possible to ensure there is enough time for it to be posted to you and returned to the Australian Electoral Commission by 3 June 2022.
Request for Information (RFI) for the provision of administrative services for the Australian Government Department of Home Affairs
The Australia Government Department of Home Affairs has released an RFI today on AusTender titled Service Delivery Partners: Delivering Administrative Services for the Department of Home Affairs (HOMEAFFAIRS/2083/RFI). The RFI seeks information on best practice service approaches and technologies to support and extend the Department's overseas service delivery. It aims to identify opportunities that will enable the Department to meet increasing future demand for services.
Reopening our border during COVID-19 will see an increase in demand for departmental services along with evolving integrity threats and traveller expectations for more efficient, digitally enabled services. To meet these challenges the Department is examining opportunities to increase the involvement of Service Delivery Partners in the delivery of its overseas transactional and administrative services.
If you are a supplier of application support, biometric collection and/or verification services (as well as other services as described in the RFI), the Department is keen to hear from you. The RFI is not a procurement. Whilst the Department has not yet committed to any future procurement activity, next steps may include a procurement process commencing in 2022.
Passport and Notarial Services
In line with the Malaysian Government's enhanced COVID-19 measures, the Consular and Passport section will have limited passport and notarial appointments.
Please call us on +603 2146 5575 or email [email protected] to book an appointment. Please note that you will only be permitted entry into the High Commission, no more than 15 minutes before your appointment time.
We apologise for the inconvenience and thank you for your understanding.
Current passport delivery times
The Australian Passport Office (APO) is currently seeing strong demand for passports. For this reason, it is advising its customers to apply for or renew their passport well ahead of their planned travel dates. The APO is therefore recommending, at least for now, that they allow up to six weeks to get a new passport.
COVID-19 – Australian Government information
For the latest news, updates and advice from the Australian Government on COVID-19, go to: https://www.australia.gov.au/.
There is also an Australian Government COVID-19 app you can download from the Apple App Store or Google Play, and a new WhatsApp channel. These all have regularly-updated information from Commonwealth, state and territory governments, on quarantine and travel restrictions.
Travel advice specific to Malaysia can be found at https://www.smartraveller.gov.au/destinations/asia/malaysia.
Please check this High Commission website, and follow us on Facebook (https://www.facebook.com/AusinMalaysia/), and the High Commissioner on twitter (https://twitter.com/AusHCMalaysia), for latest updates.
Do you have questions on COVID-19? Please go to the following link for latest updates and FAQs.
COVID-19 financial assistance - For vulnerable Australian citizens overseas
Additional Australian Government financial support for vulnerable Australian citizens trying to return home from Malaysia is available: https://www.foreignminister.gov.au/minister/marise-payne/media-release/helping-australians-overseas
If you're eligible, you can apply for an interest-free loan to help with the cost of a return flight where one can be arranged, or to assist with emergency living costs until a flight home to Australia becomes available.
Only those in genuine need will be provided loans. They are only available as a last-resort and you will have to meet strict eligibility criteria. All loans must be repaid.
For more information, eligibility criteria and to apply, see: https://www.smartraveller.gov.au/COVID-19/covid-19-overseas-financial-assistance
If you need consular assistance overseas and you haven't already done so, please register with the Australian Government at https://covid19.dfat.gov.au. If you registered before 1 September 2020, you do not need to complete an online registration, your details are already registered with us. Registering does not guarantee the Government can facilitate your return to Australia. It will allow the Australian Government to easily communicate with you about flights, if and when they become available.
UPDATED ENTRY RESTRICTIONS ON FOREIGN TRAVELLERS TO MALAYSIA
The Malaysian Government recently announced that expatriates and their dependents who hold a valid long-term pass, or have an approved pass application, are permitted to enter Malaysia.
Approval from the Director-General of Immigration is required for long-term pass holders to enter Malaysia. Requests for approval to enter Malaysia should be submitted via the MYEntry system in the ESD portal (esd.imi.gov.my).
Please see the Malaysian Department of Immigration website for further information on what long-term pass (visa) categories this applies to and the approval process to enter Malaysia. https://esd.imi.gov.my/portal/latest-news/announcement/entry-hold-my-permission-updates/.
These restrictions may change at short notice. If you have any further queries, please contact your nearest Malaysian diplomatic mission in Australia. https://www.kln.gov.my/web/guest/malaysian-mission.
Consular services
The Australian High Commission continues to provide consular assistance for Australians in Malaysia. The Consular Services Charter outlines the consular assistance that may be provided to Australians overseas, and also responsibilities that lie outside the Australian Government's consular role.
If you require consular assistance while in Malaysia, you can contact the Australian High Commission Consular Office in Kuala Lumpur between 8.30am - 4:30pm (weekdays) at +60 3 2146 5575. Alternatively, you can email us at: [email protected]
If you require consular assistance outside of business hours, or on a weekend, you can call the Consular Emergency Centre in Australia, which is operational 24 hours a day, 7 days a week, on +61 2 6261 3305, or via our High Commission switchboard, +60 3 2146 5555.
Visit the Smartraveller website to find the latest information from the Australian Government on COVID-19 for Australians abroad: https://www.smartraveller.gov.au/news-and-updates/coronavirus-covid-19. Travel advice specific to Malaysia can be found at https://www.smartraveller.gov.au/destinations/asia/malaysia.
For local information, the Malaysian Ministry of Health publishes COVID-19 updates on its Twitter account (https://twitter.com/KKMPutrajaya), as does the Director-General of Health (https://twitter.com/DGHisham). The Malaysian Government's key webpage for updates on COVID-19 is found at http://covid-19.moh.gov.my.
Visa processing
All visa processing will experience delays until further notice, as the Department of Home Affairs is prioritising applications for those travellers in categories exempt from Australia's travel restrictions. Please see https://malaysia.highcommission.gov.au/klpr/Visas_and_Migration.html for further information.
Australian visa scams
The Department of Home Affairs warns people to be very cautious regarding claims that Australian visas are allegedly for sale. These claims are not true. Australian visas are not for sale. Visas can only be obtained through official channels. Read more...
Smartraveller - Updated website
Smartraveller has the latest, authoritative travel advice so you can be informed and prepared about overseas travel. Subscribe to receive travel advice updates - by simply supplying your name and email address – straight to your inbox.
You can now also subscribe to the new SMS service - by supplying your mobile number – to receive critical alerts in the event of a crisis overseas.
In a crisis, Smartraveller will activate a crisis page on its website. It will make it easier for you or someone you know to contact the Australian Government if you need help. It will supplement the consular emergency hotline.
Visit www.smartraveller.gov.au to subscribe or connect with Smartraveller on Facebook and Twitter.
Tobacco import law
The Australian Government is stepping up the fight against illicit tobacco, with the commencement of new laws that protect Australia's borders from the importation of smuggled tobacco products.
From 1 July 2019, it is illegal for anyone to import tobacco without permission, or in contravention of permit conditions. The Australian Border Force has new enforcement options to seize tobacco and infringe tobacco smugglers. If you import tobacco without a permit or in breach of a permit condition, your tobacco may be destroyed and you may face financial penalties or prosecution.
Travellers arriving in Australia can continue to bring tobacco with them without a permit, but must always declare tobacco above the duty free allowance and pay any relevant duties and taxes. It is important for travellers to be aware of the customs requirements that apply to them when travelling to Australia. If in doubt, travellers should always declare any tobacco they are bringing with them.
Further information on the new measures is available at the Australian Border Force website
60 years of Australia's diplomatic presence in Malaysia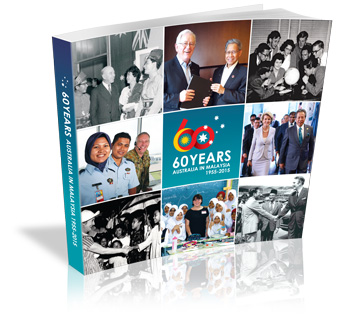 The Australian High Commission's special publication commemorating 60 years of Australia's diplomatic presence in Malaysia is available online. The commemorative book was launched by the Prime Ministers of Australia and Malaysia on 22 November 2015. It captures the long-standing and substantial cooperation between our two countries across many fields including defence, education, business, the arts and sports. It includes a number of personal stories of Malaysians and Australians who have made key contributions to building our close ties.

Australia now: Lights Up - An 11-night light show on the Australian High Commission Building
Australia now: Lights Up is a dazzling light show projected onto the Australian High Commission building in the heart of Kuala Lumpur. Lights Up is the centrepiece of the Australia now Malaysia program, which showcases the best of Australian innovation, diversity and creative excellence. The illuminations have been produced through a collaboration between Australia's Mosster Studio and Malaysia's Filamen. Read more...
Boosting Australian engagement with Malaysia
In 2021 we will celebrate Australia's economic, scientific, education and cultural links with Malaysia, through the Australian Government's flagship public diplomacy program, Australia now. Read more...
For more news, please go to the news archive page.

Education Enquiries
For further information on studying and living in Australia, please visit the Australian Government website, www.studyinaustralia.gov.au. This website provides information on Australian institutions, courses, scholarships, application process, visa requirements and more. For enquiries, please email [email protected].
Distinguished Alumni
The High Commission values the contribution the alumni of all Australian universities bring and endeavours to cultivate stronger and closer links through building and maintaining alumni relations as an important aspect of bilateral education ties between Australia and Malaysia.
We are constantly updating our distinguished alumni database. For more information and registration for future alumni events, please email [email protected].